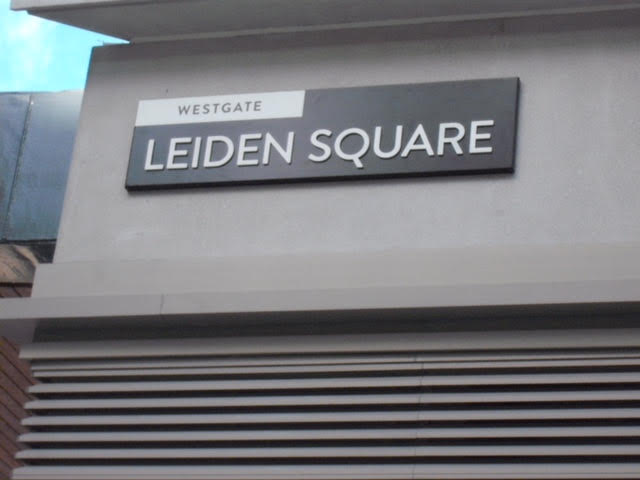 We enjoyed a day of celebrations on Saturday, 11th November 2017 to mark the opening of Leiden Square and the unveiling of a mosaic in the new Westgate shopping centre in Oxford. The developers agreed to our suggestion to name the new square after our Link. This means that Oxford's two oldest twin city links have been recognised with squares – Bonn to the north and Leiden to the south.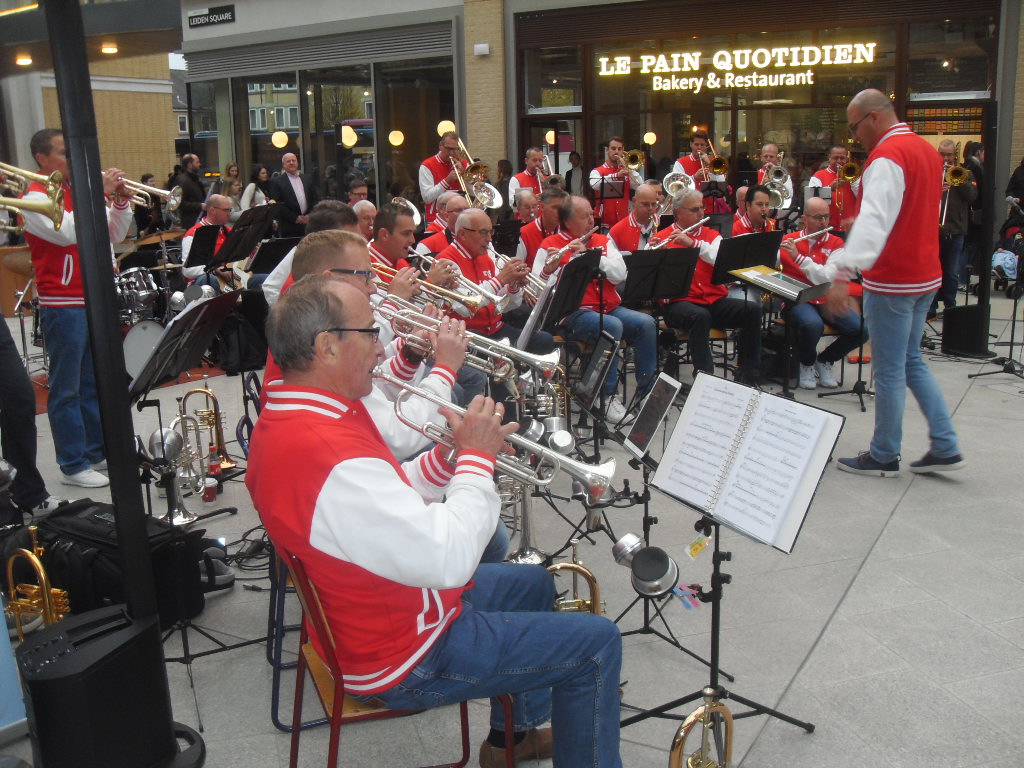 The day was marked by music from the Cutting Edge Big Band from Oxford and the K&G Stage Band from Leiden, and dancing from the Messy Jam troupe from Oxford. Hundreds of shoppers packed the square and the balconies above to enjoy the entertainment.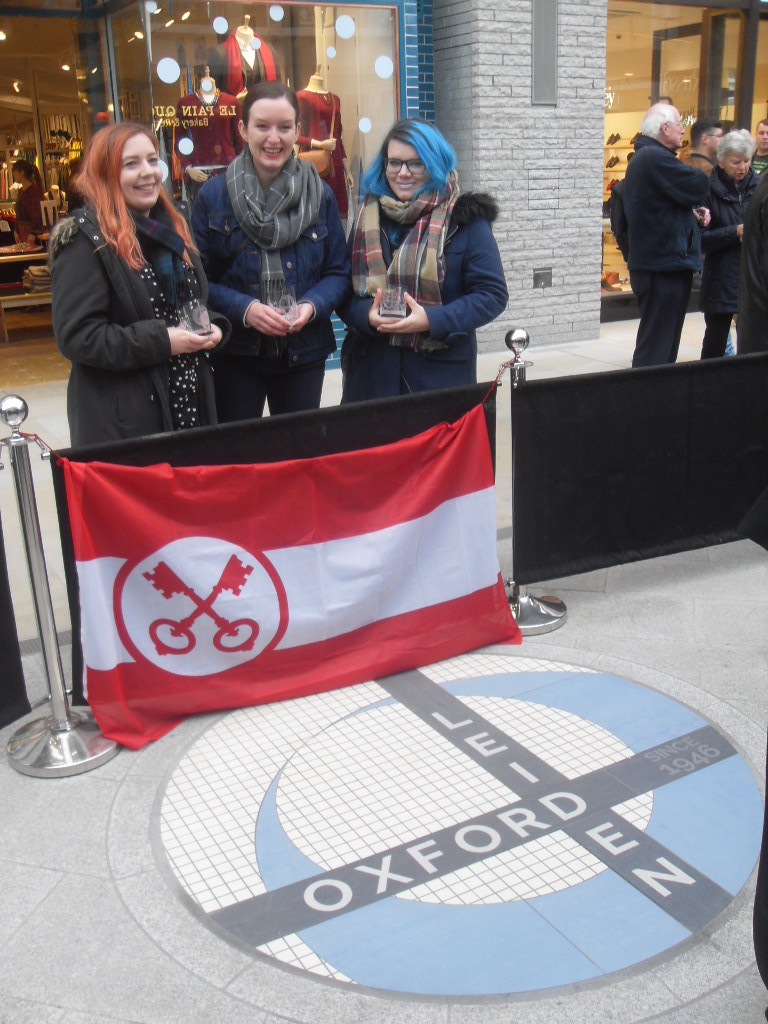 The mosaic was designed by three young artists, Lauren Baldwin and Tamsin Corrigan, from Oxford, and Emma van Noort, from Leiden.
A group of Leiden cyclists visited Oxford in June 2017, a follow-up to a visit Oxford cyclists made to Leiden in 2016. A highlight of the week in Oxford was a hill climb at Shotover, the winner of which, Oxford cyclist Phil Grunewald, was presented with the Carel van Ingen Trophy.

The trophy had been donated by Leiden in memory of the city's former international officer, and was handed to the winner by members of his family who travelled to Oxford specially for the occasion. Other events during the week included cycle tours of Oxford and a forum to discuss cycling initiatives. During the earlier visit to Leiden, Oxford cyclists had been impressed how well cyclists were treated in Leiden, with dedicated cycle lanes and even dedicated traffic signals.
Staff from McDonald's restaurants swapped burgers for bicycles when they rode from Oxford to Leiden in June 2017. Twenty-seven riders took part in the 300-mile, three-day event, and raised more than £31,000 for Ronald McDonald Houses, which provide accommodation for parents while their children are in hospital.
We paid our usual annual visit to Leiden in May 2017, joining two Dutch Remembrance Day wreath-laying ceremonies and enjoying the Dutch Liberation Day celebrations. A 15-strong party, including the Lord Mayor and Lady Mayoress, Mohammed Altaf-Khan and Jamila Akhter Altaf, made the trip by air, rail, road and ferry.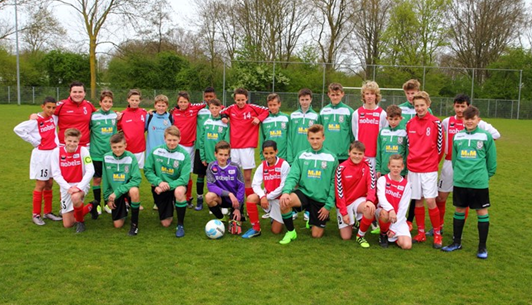 In April 2017, more than 140 players, parents and siblings associated with Kidlington Youth Football Club visited Holland for their Easter tournament at RCL Leiderdorp, near Leiden. This is the 29th year this exchange has taken place. Four youth teams (three boys and one girls), an under-18 team and a parents' team competed. Six friendly matches took place on Easter Saturday, followed by a tournament with other Dutch clubs on Easter Monday. All games were played in friendly spirit, and some fantastic football was on display.
In March 2017, the Link celebrated its 71st birthday at a social evening following the annual meeting, with the Lord Mayor cutting a cake.
An exhibition of work by five young artists, designers and illustrators mentored by our committee member, Clare Carswell, took place during part of the pantomime season at The Theatre, Chipping Norton. Entitled High Seas and Palm Trees, it is estimated that it was seen by 8,000 theatregoers and visitors.
 
We celebrated our 70th anniversary with two special events in Oxford in July 2016 – an Alice in Wonderland-themed weekend and a visit by two sections of the celebrated K&G Brass Band from Leiden. Other 70th anniversary events for Oxford members include a ploughman's lunch on the Chinnor-Princes Risborough heritage railway line and a visit to the National Memorial Arboretum in Staffordshire.

Leiden marked the anniversary in May 2016 with a re-enactment in period costume of a recently-discovered link between our two cities – a visit the Earl of Leicester, who lived near Oxford, paid to Leiden in 1586 as Governor-General of the Dutch Republic, requesting that the Burgomaster find room to house 300 troops and stable 200 horses.
All the latest news is included in the Link's quarterly newsletter, published in March, June, September and December.
To join the Link, receive a copy of the newsletter and for more details of the events, please contact our Secretary, Jo Hawtin, or Chairman, John Chipperfield.