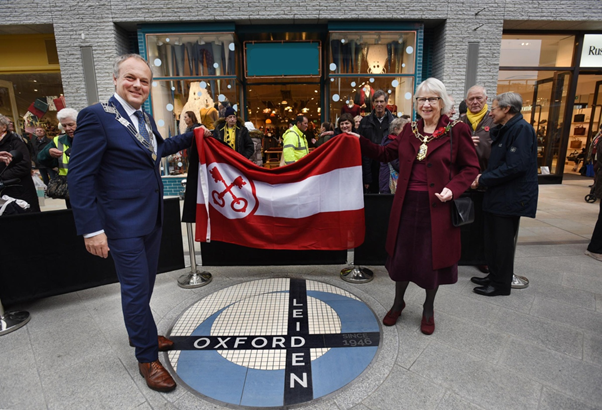 Oxford and Leiden in Holland have been twinned for 75 years and although many city twinnings have ceased, this very special one continues strongly. It is now Englandís longest town twinning link.

The role of the Oxford-Leiden Link is to build and retain strong friendships and encourage sporting and cultural groups to take part in exchanges. We provide advice on travel and hospitality and information on events during their visit. We also organise social activities, allowing us to raise money to continue the work
of the Link. More details can be found throughout the website.

Members receive a quarterly newsletter and details of the annual programme. Special events were held in 2016 to mark the Linkís 70th anniversary and in 2017, at the regeneration of the Westgate Shopping Centre in Oxford, a mosaic was unveiled in the newly-named and dedicated 'Leiden Square' as can be seen above.

Events to mark the 75 th anniversary in 2021 have been curtailed because of the coronavirus pandemic, but have continued remotely.

Would you like to join us? Have a look through our developing site and do feel free to contact our friendly group for more information.